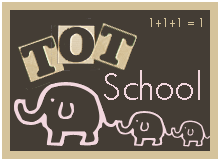 M loves frogs, so this week we worked on many frog-related activities for Tot School. She worked on these activities all week, although I only took photos one day. I have found that when she really enjoys an activity, she is happy to do it over and over all week long.
First, we did this upper and lowercase matching game from
Kidssoup
. She made the uppercase frogs hop to the appropriate lowercase lily pad.
We also worked on a number counting game from
Kidssoup
. There were cards with the numbers 1-10 on them. I would place the card on the frog, and then M had to count out the appropriate number of green pompoms onto the frog. I was pleased to realize she recognized all of the numerals 1-10. We'll have to start working on higher numerals in our activities from now on.
We are working with M on spelling her name, so I combined that with a gross-motor activity for this week. I cut out construction paper lily pads and taped them to the floor. I wrote the letters of her name (in order) one on each lily pad. She would hop to the letter I called out. We did this over and over, and when M got bored hopping letters she decided to swim them, crawl them, and run them.
We did some non-theme projects this week as well. M worked on folding with some pages from her Kumon folding workbook.
We also worked on our pencil grasp. I gave M colored pencils to use and let her draw. I was really just concerned with getting her the proper grasp, and not what she actually drew with them. We still have some work to do, but she did enjoy using the "big girl" pencils.
We hadn't done any color grading work in a while, so I pulled out the green and yellow sheets. These are made with paint chips and clothespins, but are our version of the third box of Montessori Color Tablets. You can see that this time she didn't get them all correct, but by the end of the week she was matching the colors up properly. We'll continue to work on these and the other colors, as she needs the practice.
M had me set up their doorway puppet theater (it's in our bathroom doorway so ignore the background) and put on a show for us.
For dessert on Friday night, I made the kids frog floats using lime sherbet and sprite. They didn't turn out quite like I had envisioned, but the kids enjoyed them anyway.
That was our frog week in Tot School. To see what others did this week, see Carisa's blog at
1+1+1=1
. This coming week we will be working on birds with a wonderful list of activities my mother has prepared for M.